AURORA WATCH: NOAA forecasters estimate a 15% to 25% chance of polar geomagnetic storms on Oct. 30th when a solar wind stream is expected to brush against Earth's magnetic field. High-latitude sky watchers should be alert for auroras. [gallery] Aurora alerts: text, voice.
DOUBLE SATELLITE FLYBY: To catch one satellite having a close encounter with a distant star requires careful timing and a degree of luck. Last night, Oct. 28th, Kevin Fetter of Brockville, Ontario, did it twice. Play the movie to watch two spacecraft criss-cross Regulus in the constellation Leo: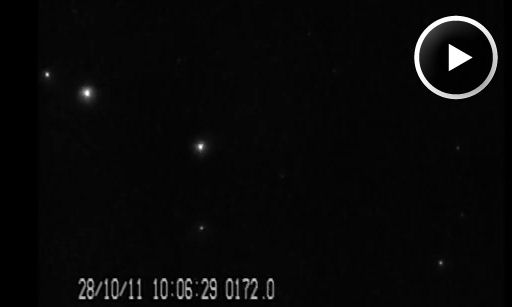 The first satellite was SkyMed-2, part of a constellation of Earth observing satellites deployed by the Italian Space Agency. SkyMed satellites are remarkable because they sometimes flare like Iridiums.
The second, brighter satellite in the video is Tiangong 1, China's new space station. The 8.5-ton module was launched on Sept. 29th on a two-year training mission. Chinese spacecraft and taikonauts will be visiting Tiangong 1 in the months ahead to practice rendezvous and docking maneuvers, to exercise space construction techniques, and to learn to live onboard an orbiting outpost. An unmanned probe, the Shenzhou 8, is due to launch on Nov 1st for China's first remote docking exercise.
This means more double flybys are in the offing. Sighting times for Tiangong 1 and companions are available from Spaceweather.com's Satellite Tracker. Your smartphone can tell you when to look, too.
IN CASE YOU MISSED IT: All sunsets are beautiful, but the past two have surpassed themselves. On Oct. 27th and 28th, Venus, Mercury and the crescent Moon gathered in the glow of the setting sun for a lovely conjunction: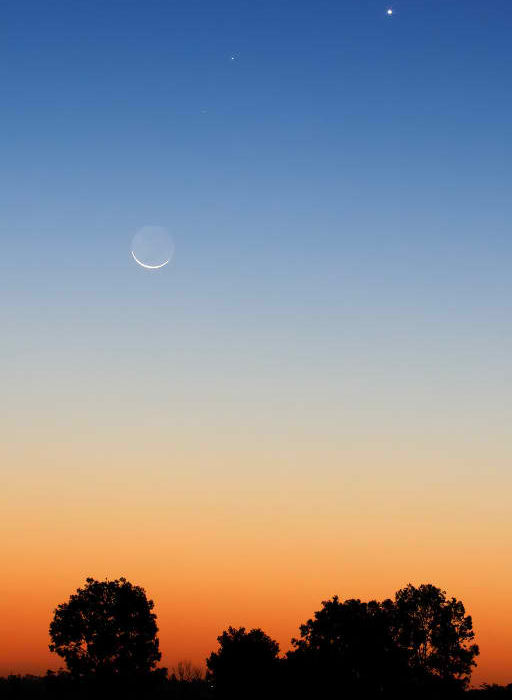 Luis Argerich sends the picture from Buenos Aires, Argentina. "What a beautiful view!" he says. Geometry favored observers in the southern hemisphere where the trio stood relatively high out of the sunset glow. The sun's glare was more of a probem in the northern hemisphere; nevertheless some observers there caught a glimpse of the event, too. Browse the links below for a selection of photos from both sides of the equator.
Source:

Space Weather News